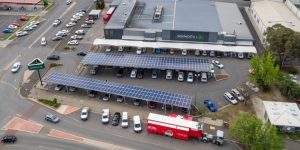 A Woolworths store in regional NSW has become the first Woolworths in Australia to introduce solar panels on top of carpark shade sails.
The store in the town of Young has two solar arrays – made up of 366 high-efficiency solar panels spanning 730sqm – which have the capacity to generate more than 185,000kw hours each year. This is said to be equivalent to 30 Australian households' annual energy consumption.
Woolworths says the innovation will provide shade for 90 cars and will help offset more than 10 per cent of the store's energy consumption. It builds on the installation of LED lights, more efficient refrigeration and air-conditioning in recent years.
'Good for the planet and good for business'
"We're proud to roll out an Australian first in the heart of regional NSW," Woolworths General Manager for Facilities Management Trent Mason said.
"We know Young has its fair share of hot, sunny days and many of our customers asked for some shade in the carpark for this very reason.
"As we looked into building shade sails to keep the sun out, it made sense to explore solar options at the same time.
"The end result is not only a better experience for our customers in Young – it's also good for the planet and good for business."
A 'forward-thinking' solution
Deputy Prime Minister and Riverina MP Michael McCormack says he was delighted Woolworths chose his home electorate of the Riverina to roll out this forward-thinking and innovative solution, harnessing the sun's energy.
"Woolworths has developed a local, practical solution to the community's needs for shade in the carpark which has added great value by generating renewable energy from solar panels," he said.
"This delivers community and commercial benefits and is another example of a simple but significant innovation led by business, which can be replicated throughout our sun-drenched country."
Woolworths Group has invested $2.7 million in energy efficiency projects across 14 stores in the Riverina over the past three years. These investments have formed part of a broader sustainability effort across Woolworths Group, which has delivered a 13 per cent reduction in emissions on 2015 levels.