Woolworths has launched a "luxurious" hot cross bun flavour with the help of Cadbury, the Indulgent Mocha Hot Cross Buns.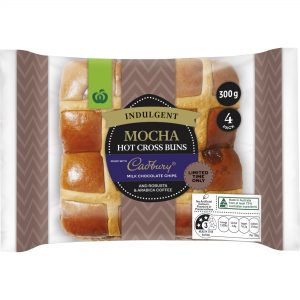 "We are pleased to partner with Cadbury once again to launch our newest hot cross bun flavour to Woolworths stores across Australia," says Woolworths Merchandise Manager Donald Keith.
"We know our customers love to indulge in traditional hot cross bun flavours, and anything sweet. Chocolate and coffee is an iconic combination, and we hope those looking to treat themselves will enjoy this rich new flavour."
Available in a four pack for $4 at Woolworths stores and online, the Indulgent Mocha Hot Cross Buns are made with "real" Cadbury milk chocolate.