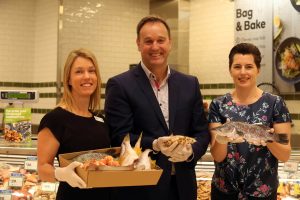 Woolworths and the World Wide Fund for Nature (WWF) have teamed up to "improve sustainable sourcing" in the seafood sector.
From now on, WWF-Australia says it will assess all Woolworths' Own Brand seafood on shelves and at the seafood counter. Using its own methodology, it will "implement standards of traceability" so that customers can choose sustainably produced seafood more easily.
Wave of popularity
Seafood is ever more popular. Over the past year, seafood sales have grown by about seven percent at Woolworths alone.
Yet consumers are also aware of its potential environmental impact. In fact, recent research shows that more than 80 per cent of Australians who eat seafood believe we need to protect it for future generations.
Woolworths General Manager Quality, Sustainability and Health, Alex Holt said: "Our oceans and marine life stocks are under increasing pressure as global populations grow and demand for seafood soars.
"The Woolworths-WWF-Australia partnership is built on the shared commitment to build more sustainable fishing and aquaculture industries. We know our customers are increasingly interested in where their seafood is sourced from.
"Raising awareness of sustainably sourced products is an ongoing priority for Woolworths. As is ensuring all the seafood at our seafood counter, as well as own-brand seafood products, comes from sustainable sources.
"WWF-Australia brings decades of experience helping businesses improve the sustainability of their operations. We're excited to partner with them."
Real outcomes
WWF-Australia's Seafood Lead Joanne McCrea said: "Globally, WWF works with major buyers like Woolworths to improve their supply-chain management and leverage their purchasing power to promote more sustainable production of seafood.
"Working together with Woolworths will create real, on-the-ground conservation outcomes for our precious marine environments.
"We will help Woolworths select seafood that minimises the impact on our oceans and marine life. We'll work directly with fishing and aquaculture operations to help them improve sustainable practices where necessary. And we'll make it easier for Woolworths customers to choose responsibly produced seafood.
"We're delighted to support Woolworths as they work towards a more sustainable future."