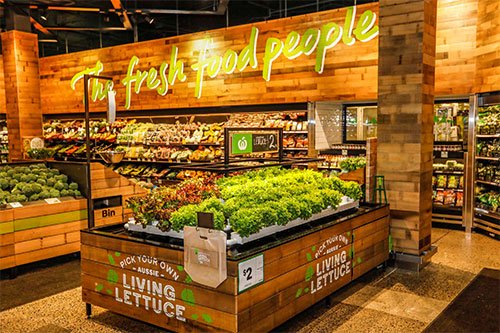 The renewed Woolworths Marrickville Metro in Sydney's inner west represents the largest individual investment by Woolworths in a store renewal since the program began in late 2015.
Fresh and convenience are the focus of the store. With an expanded fresh-food offering, customers can pick their own living lettuce from a hydroponic setup, enjoy a flame-roasted chicken, or select something for entertaining from the 'cheese cave'.
A new 'Ready to Go' section at the front of the store, filled with readymeals, fresh sandwiches, salads and healthy juices also caters for time-poor customers looking for easy meal options. The section also features 'Ready to Create' bags – a new meal kit offering convenience for customers who want to cook great recipes from scratch without the hassle of shopping for all the ingredients.
"Woolworths Marrickville Metro marks the next evolution of our journey to create a neighbourhood food store that provides a great shopping experience for our customers, good prices on products they want, a great fresh offer and the convenience they're looking for," Woolworths Supermarkets Managing Director Claire Peters said.
"Our teams has spent a great deal of time understanding how our customers like to shop, looked across the globe for inspiration, and designed the store with the local customer at the forefront to create this next-generation grocery-shopping experience. Every possible angle and aisle in this process has been revisited and the result is a rustic yet futureproof design with a real community spirit."
Customers can also experience a full production bakery including freshly made artisan bread, a new and larger range of fruit and vegetables, in-store butchery and fish market. Support for local producers is also a focus, with products being ranged from local brands such as Hellenic Patisserie and Pepe Saya.
"We're also committed to reducing our impact on the environment and operating our stores more sustainably, so a lot has changed behind the scenes too," Ms Peters said. "We've fitted out the store with LED lights to reduce power usage, switched to carbon-efficient refrigeration and air-conditioning systems, and have an area in-store where customers can bring in their soft plastics to be recycled."
The adjacent BWS has also been renewed, providing customers with a seamless journey between both stores and the ease of paying for their items from a dedicated register.