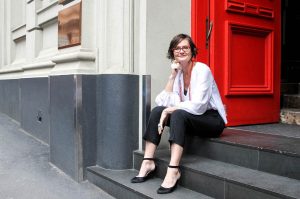 Mental illness in the workplace is costing the economy $60 billion a year, claims a counsellor who specialises in treating business leaders.
Gabriel Edwards (right) is the founder of Breathing Space Counselling Practice. She says senior management has a duty to make workplace mental health and wellbeing a priority.
"CEOs and executives have the greatest influence on the state of an organisation's mental health and wellbeing," Ms Edwards said. "They're rightly required to drive the many mental-health initiatives being rolled out across a growing number of organisations.
"The top team must live and breathe a commitment to the principles that support and enable positive mental health. They're the role models for all values and behaviours throughout an organisation."
Four million Australians affected
Ms Edwards says new Australian Bureau of Statistics (ABS) data support her case. The data shows that, across Australia, mental and behavioural health conditions were the most prevalent chronic illnesses throughout 2018. In fact, they left more than four million Australians in the grip of anxiety and depression.
Worse, more than one in five (23 per cent) cases were directly associated with work-related pressures.
Thankfully, says Ms Edwards, mental-health support initiatives for Australian workplaces are now a national priority. So much so that the federal government will invest more than $300 million in support services over the next four years.
Tough at the top?
But Ms Edwards worries that, ironically, senior managers might be the very people who slip through the safety net. This could also have top-down consequences for the companies and organisations they run.
"I worry about the gap in support and resources for our top-tier leaders," she said. "Those who are required to create and maintain mentally healthy workplaces.
"Leaders must stop and focus first on their health, their relationships, and their mental wellbeing before taking on the multitude of business and self-imposed decisions that will hit them as they begin to venture back to the office in the coming weeks."
She also urges business leaders to take stock of their own mental health and wellbeing.
"As a counsellor specialising in working with high-performing professionals in the business arena, I provide a safe confidential space for leaders to drop the game face," she said.
"To stop, check in and reflect on the state of their health, their relationships and their peace of mind."