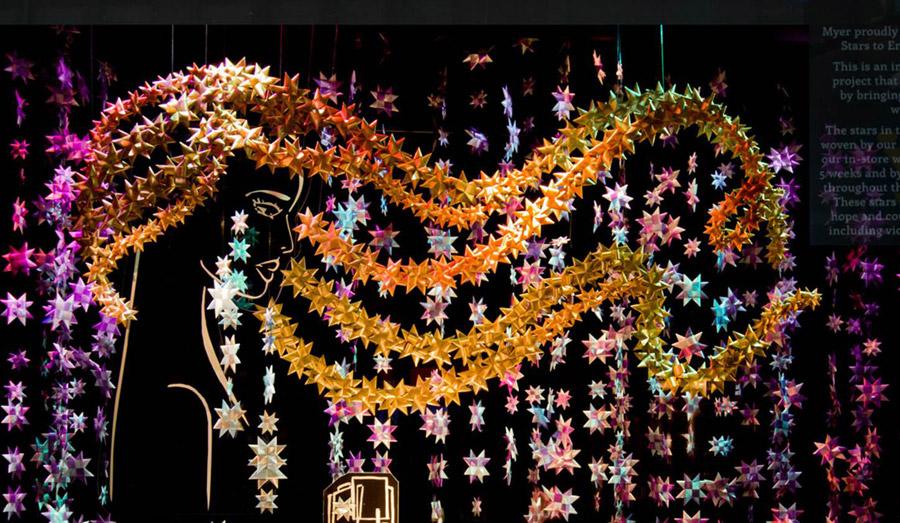 Two Australian shopper marketing campaigns took out top honours at the POPAI Global Marketing at Retail Awards at the GlobalShop show in Las Vegas.
Up against more than 50 finalists from 10 countries, Active Display Group won the award in the most competitive global category – Shopper Marketing Campaign – for the Myer 'One million stars to end violence' campaign.
The initiative sought to raise community awareness of violence and enabled community members to get involved, weaving stars to represent their voices in a larger-than-life display for International Women's Day.
EDA Point of Sale Solutions won the global award in the 'Alcoholic Drinks – Permanent' category, for House of Hennessy, a 'beacon' in-store activation that engaged cognac shoppers, achieving a volume sales increase of 170 per cent for Moet Hennessy brands.
"An Australian company taking out the global award in the Shopper Marketing Campaign category – that's a big thing," POPAI Australia and New Zealand General Manager Lee McClymont said. "There's great work being done here. Alcoholic Drinks is also one of the most innovative and competitive categories in the competition. So we can feel proud of our industry's standing on the world stage."
The 2016 POPAI Global Marketing at Retail Awards contest was the sixth of its kind. The awards provide a platform to showcase the design and manufacturing talents of both producers and suppliers across the world and recognises excellence within the industry.
POPAI Awards are run in 36 countries, with the national winners eligible for the global awards – a program conducted online and judged by representatives from leading brands, retailers and producers across the world.
[vc_gallery type="image_grid" images="6103,6104″]