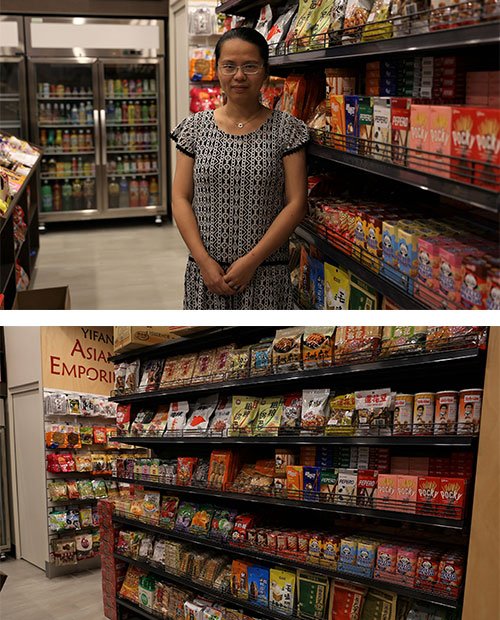 The well-stocked grocer at Chevron Renaissance Shopping Centre ranges popular Asian grocery items and hard-to-find delicacies and is said to be the first of its kind available to shoppers in the area.
Yifan (pronounced 'E-Fin') Asian Emporium is owned by Maggie Huang, who says she is excited to fill a gap in the market to cater to both Gold Coast locals and the growing number of Chinese tourists visiting the city, seeking an alternative to western supermarkets.
"There is no other Asian grocery store currently operating in Surfers Paradise, so Yifan Asian Emporium will be a convenient option for tourists and locals," she said.
A Gold Coast local herself, Ms Huang owned a convenience store in Surfers Paradise for three years before deciding to open her own Chinese grocery store in Chevron Renaissance.
The store ranges an assortment of traditional, fresh and packaged foods, such as vegetables, dumplings, noodles and popular Chinese snacks, along with an extensive range of authentic Chinese cookware.
The addition of Yifan Asian Emporium marks another welcomed retailer at Chevron Renaissance, following a succession of new tenancies, with more openings on the horizon.
The iconic retail destination has undergone an extensive revitalisation since Precision Group bought the shopping centre in May 2015. Since then, several million dollars have been invested in renovating the centre, with further works to continue this year.
Chevron Renaissance Leasing Executive Kevin Ramsey says the addition of Yifan Asian Emporium to the centre both diversifies and amplifies the dynamic retail mix.
"We're excited to welcome Yifan Asian Emporium as the newest tenancy within Chevron Renaissance," he said.
"With the Gold Coast experiencing growth from the Asian market and an increased demand from Australian consumers, the introduction of a 100 sqm Asian supermarket will meet the needs of this growing sector."