Media Release
27 May, 2020
YoPRO further expands high-protein product range with Ice Cream-style Dessert Sticks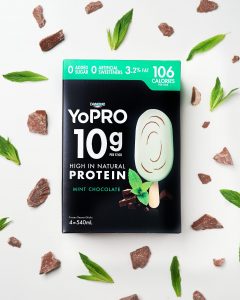 Danone's YoPRO has today released an ice cream-style dessert option into its high protein snack range.
The introduction of Ice Cream-style Dessert Sticks follows YoPRO's recent release of the Nut Protein Bars, as the brand continues to expand into growing product formats outside of its traditional yoghurt range where protein and natural options are important.
Available in Mint Chocolate and Salted Caramel, YoPRO Ice Cream-style Sticks serve as a deliciously creamy frozen dessert that's packed with protein, perfect for health-conscious consumers.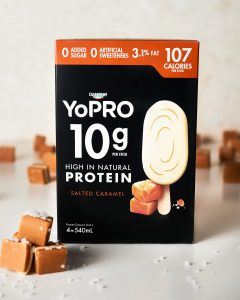 Providing an indulgent treat that won't undo your good work, YoPRO's Ice Cream-style Dessert Sticks contain: 10g protein, 0 added sugar, 0 artificial sweeteners, natural ingredients and below 110 calories per serving.
On the new products, YoPRO Brand Manager, Xavier Gonzalez said "Consumers no longer have to make a compromise on their health and fitness while giving into their sweet tooth cravings. We are excited to be offering a deliciously creamy ice cream-style dessert option that delivers to your daily nutritional needs with 10g protein, no added sugar, no artificial sweeteners and less than 110 calories in each stick. We're hoping the new indulgent flavours will encourage health-conscious consumers to treat themselves more often and tempt existing ice cream lovers to switch to a healthier protein packed option."
From May 27, YoPRO Ice Cream-style Dessert Sticks will be available in 4x135mL packs in the ice cream aisle at Coles supermarkets.
Source: lampoon