Yowie has launched two new Easter-themed products which are available through major retailers in Australia this season.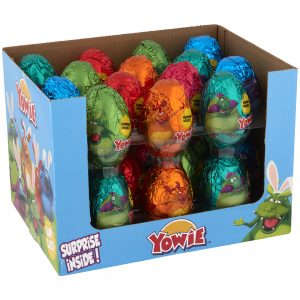 The Easter collection includes a Yowie Surprise Easter Egg and a Special Edition Giant Yowie.
Each Yowie character has its own 100g Easter egg with a surprise collectable inside.
On the other hand, the Special Edition Giant Yowie, which is 20cm tall and weighs 250g, comes with three limited-edition dinosaur collectables with 12 to collect in total.
Consumers can also access a range of activities via yowieworld.com, including downloadable clues for an Easter egg hunt and Easter-themed craft activities.
"We are delighted to be surprising our fans with a brand-new range of surprise-inside chocolate treats this Easter made with the high-quality chocolate our customers have come to expect," says Yowie World CEO Mark Schuessler.
"We have new seasonal product lines due to be released in Australia this year which will allows us to continue to introduce another generation of consumers to the Yowie brand."
The Yowie Surprise Easter Egg is available at Woolworths and IGA, while the Giant Yowie is available at Coles, Woolworths and select independent retailers.