Fans of Allen's Green Frogs are set for a treat as the lollies make a return into stores this month. This time, though, Allen's is bringing the whole Frog Family with them.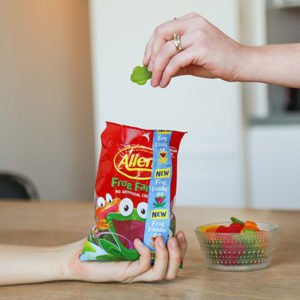 According to Allen's, fans have been calling for the return of the Green Frog since its production was halted in 2014. Responding to the requests, Allen's has decided to bring it back as part of the Allen's Frog Family.
Each bag will contain the classic green (lime) and red (raspberry) flavours, plus two new colours in yellow (pineapple) and orange (orange).
"Last year, Green Frogs made a special appearance at the Allen's Lolly Bar and were a smash hit, selling out in just three days," Nestlé Head of Marketing Confectionery Anna Stewart said. "One super fan even drove from Canberra to Sydney to ensure they didn't miss out.
"It's clear our lolly lovers are a passionate bunch, and we hope our new Frog Family ignites fond memories, creates smiles in homes nationwide, and excites people's tastebuds with the fabulous new flavours."
Allen's Frog Family packs (170g) will join its Red Frogs, Frogs Alive and Party Mix on shelves in Coles, IGA and selected convenience outlets (RRP $2.99).