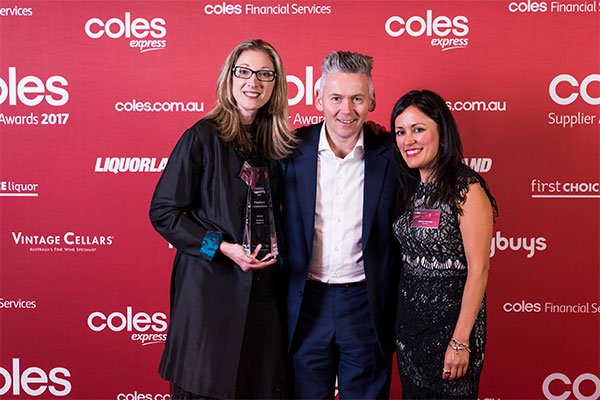 NSW-based family-owned business The Cordina Food Company has won the Coles Supplier of the Year Award for Product Innovation.
The Coles Supplier Awards were presented at a gala dinner in Melbourne last week, attended by about 1,200 suppliers and team members, with Cordina honoured for its fresh and chilled crumbed chicken.
Cordina, which has been supplying Coles for almost 50 years, says the winning product comprises 100 per cent chicken-breast fillets coated in ciabatta breadcrumbs.
"As a business which specialises in innovation, we're extremely proud to have been recognised with this award," The Cordina Food Company CEO Louise Cordina said.
"We share a passion with Coles for challenging the status quo to deliver better-quality, more convenient and more exciting products for Australian shoppers. Through a great collaboration, we've managed to launch some really game-changing concepts."
Coles Managing Director John Durkan said: "We are immensely grateful to all our suppliers who go to great lengths every day to support Coles and ensure our customers have great products and services at affordable prices."
Product innovation is one of seven Coles Supplier Award categories recognising  excellence.
Other winners were:
Coles Community Champion of the Year Award: Victorian tomato grower Flavorite for its support of the Melbourne-based charity Maddie Riewoldt's Vision in helping raise funds to find new treatments for bone-marrow failure.
Coles Sustainable and Ethical Excellence Award: Tasmanian salmon producer Petuna for its development of a new hatchery that reduces water intake and its environmental footprint.
Coles Best Product Launch: wholesale bakery product manufacturer Allied Pinnacle for Coles Traditional Fruit Hot Cross Buns, which were ranked by consumer group Choice as the best such hot cross buns in Australia.
Coles Supply Chain Excellence Award: Don Smallgoods, of Castlemaine, Victoria, for its seamless delivery of a new deli ham range for Coles stores.
Coles Rising Star Award: Lockelec Innovation, based in Braeside, Melbourne, for designing and building the 'Red Rover' motorised trolley pusher to assist with trolley collection, and supporting safer work practices for Coles team members.
Coles Outstanding Service Award: Linfox Armaguard for its management of Coles' cash-handling services, and ongoing commitment to continued innovation in safety and security.