Two of Coles' popular exclusive brands – KOi and Woofin' Good – have been recognised for their creativity, marketability and innovation in the US-based Vertex Awards 2021, a global competition which focusses on the art of private label package design.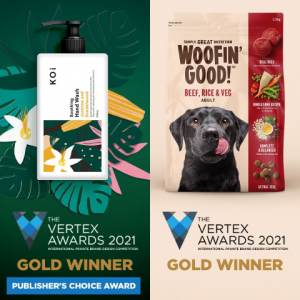 Skin care range KOi beat 600 international entries to win the coveted best in show 'Publishers Choice Award,' as well as receiving a Gold award in the personal care category. Coles' extensive dog food range Woofin' Good! was awarded Gold in the pet products category.
Coles Head of Marketing for Own Brand Belinda Anderson said her team was proud to partner with Australian independent branding and design agency Hulsbosch to bring these brands to life.
"Exclusive brands like KOi and Woofin' Good are inspiring customers and strategically important to Coles' strategy to be an Own Brand powerhouse. They provide customers with exceptional value because of their quality and ingredients," Ms Anderson said.
"These products have packaging and design that our customers are proud to put on their shelves. The craftsmanship and commitment that goes into every Koi product, with only the best, natural ingredients being used, offers real value for our cost-conscious customers.
"Woofin' Good! is a wholesome range of food and treats for dogs at great value prices. Coles is aiming to inspire customers with a fantastic quality range made with real meat, no artificial colours or preservatives, and essential vitamins and fish oils to give dogs the essentials they need for a happy and healthy life."
Hulsbosch Creative Director Mikey Hart said his team is proud to receive these awards for the work they do with Coles.
"This is a great honour to receive accolades for our unique design and packaging work and we celebrate with the wonderful team at Coles," Mr Hart said.
The US-based Vertex Awards is an annual industry event judged by a highly esteemed panel of industry experts from around the world. This year's competition included more than 650 entries from 32 countries and 55 retailers.