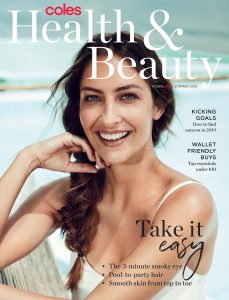 Coles has launched Coles Health and Beauty, a new free quarterly magazine available in supermarkets across Australia.
The supermarket describes the new magazine as "filled with expert-led information about how to get healthy and look and feel great". It will also offer tips on "how to find the best products in the Coles health and beauty aisles".
The summer 2019 issue includes the weekly wellbeing routine of model and winner of The Block, Elyse Knowles. It also includes feature stories about how to stress less, as well as hair and makeup tutorials for hot weather.
'Smarter choices at the checkout'
Coles created the new mag in collaboration with Medium Rare, a Sydney-based content agency. Medium Rare also produces the monthly Coles magazine, which the supermarket says is Australia's most-read publication, with 4.6 million readers.
Coles Marketing Content Manager Maia Bryant said: "Our new magazine has been created to help Australians navigate the health and beauty aisles through reliable and credible information.
"We've challenged ourselves to help people live better and healthier lives. We want to show customers how to save money through smarter choices at the checkout.
"We're thrilled that leading health and beauty brands have been excited to get on board this new publication."
Dedicated team
Coles Health and Beauty has its own dedicated health and beauty editorial team. The editor is Medium Rare's Michelle Bateman, formerly editorial director of beautyheaven.com.au. According to Ms Bateman, the mag aims to provide holistic and achievable health and beauty solutions, particularly for busy women.
"It offers readers credible advice, practical tips, helpful how-tos, and an edit of the best buys in the supermarket, from bargain products to hidden gems," she said.
"We're excited to provide Coles customers with content that delivers real value and advertisers with a highly engaged audience."