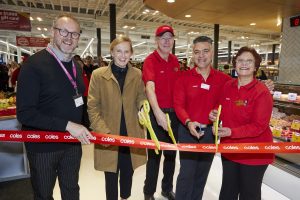 Coles' revamped Prahran supermarket opened on Wednesday and is set to create about 50 new jobs as part of Coles' $120m investment into Victoria this year.
The opening celebration included speeches, cake, a ribbon-cutting ceremony and a performance from the Prahran Windsor Primary School choir before the doors opened at 9am.
The reopening of Coles Prahran comes ahead of the completion of a multi-level car park led by City of Stonnington at the back of the property.
Investment benefits
On a larger scale it is anticipated that this investment into Victoria will create more than 1,600 new construction and retail jobs across seven new supermarkets, including the recently opened Coles' supermarket in Kew and Coles Local in Surrey Hills.
Victoria Gardens and Spencer Street stores, in the area, have also been recently upgraded.
Store features
Coles Prahran Store Manager Steve Filianos says the new store, including a market- style fresh produce section, will bring much-needed reinvigoration and convenience to the area.
"We've already received feedback from locals about how the new layout will really enhance their shopping experience," Mr Filianos said.
The recently launched Coles Fresh Kitchens range will be available at Prahran as well as an expanded Greek and Mediterranean product line.
The store's new 'on-the-go' convenient offerings include a large range of sandwiches and salads for lunch and a do-it-yourself pizza range (exclusive to Coles Prahran) and curries.
Click&Collect will also be available at Prahran.
Construction timeline
In seven weeks Mainbrace Constructions demolished, gutted, rebuilt, and fitted out the store, taking care to ensure the original heritage-listed features of the store façade remain intact.
For the benefit of the community The Coles Prahran team volunteers at the Prahran Mission Uniting Church's soup kitchen, spends time with Prahran's senior citizens and supplies fresh fruit to Prahran Windsor Primary for its annual Walkathon fundraiser.