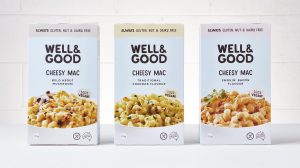 Well & Good Cheesy Mac is a convenience meal said to be suitable for everyone,
including vegans and those with intolerances to gluten, nut, egg, and dairy.
Designed for the novice cook, these meals are promoted as being simple to make
in about 10 minutes, using a microwave or the stovetop.
Well & Good National Retail Manager Shila Barak says Cheesy Mac has taken
Australia by storm since hitting the supermarket shelves in June.
"The response to Cheesy Mac has been extremely positive and we expect demand
to grow as we embark on an aggressive national advertising campaign," she said.
"Our job of getting the word out there has been boosted by some highly active
'free from' communities."
Well & Good is a Melbourne based food manufacturer claiming it has built a
strong reputation for its quality gluten free products. Its purpose-built, allergen-free
factory has produced baking mixes, flour blends and bread for 12 years, now adding
convenience meals.
The Well & Good Cheesy Mac range (RRP $4.75) is available in Traditional Cheddar,
Smokin' Bacon and Wild About Mushroom flavours. The products are ranged in Coles
and selected independent supermarkets.