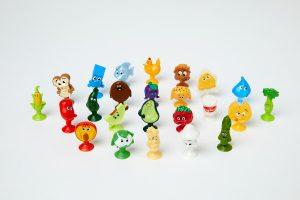 Coles and Coles Express have bought back Fresh Stikeez collectibles campaign, including a brand-new national healthy eating program to help Aussie parents get their kids to eat a balanced diet.
Stikeez Fresh Friends features 24 new characters, inspired by fruit and veggies.
However, this year Coles includes different food groups like dairy, proteins and grains.
The collectibles form part of the Coles Fresh 5 challenge endorsed by Stephanie Alexander Kitchen Garden Foundation.
The challenge allows children to track the different food groups they have tried by adding Stikeez to the corresponding item on a specially-designed placement available from Coles Supermarkets.
Chief Marketing Officer, Lisa Ronson says, "Customers have told us they use Stikeez as a fun tool to encourage kids to eat more types of fresh foods – our research showed that 31% of customers who collected the first Stikeez range increased their purchases of fruit and vegetables and 50% bought a wider variety of fresh produce.
"Kids who had never touched broccoli or tasted a fresh tomato found it fun to challenge themselves to eat foods of all colours of the rainbow."
Recycling Stikeez
Save Our Soles founder, John Elliot says that Stikeez will be recycled through the same process he has used to recycle footwear in Australia since 2010.
"It's really good to see Australians care so much about reducing waste and we are delighted to be working with Coles to find another purpose for Stikeez that customers no longer have use for," Mr Elliot explains
For more information on Stikeez Fresh Friends and the Coles Fresh 5 challenge, click here.