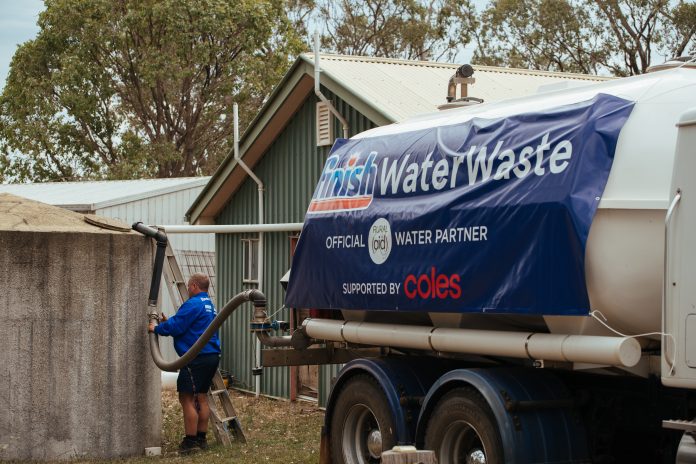 Victorian dairy farmer Fiona Rourke is receiving a donation of a 22,500lt tank and water today (25 November) to help assist in the recovery from drought. This is thanks to Finish's #FinishWaterWaste initiative.
Almost half of Australia's farms are said to be serviced by the Murray-Darling Basin's Victorian waterways, including Ms Rourke's property near Shepparton.
Finish, in partnership with Rural Aid and supported by Coles, is delivering water tanks to Australian farmers. These tanks, delivered over the next six months, will help to ensure that more rain is captured, and the families that receive them are better positioned for the next dry spell.
Ms Rourke says the Millennium Drought and those that followed devastated our farmlands, communities and livelihoods.
"There is a persistent uncertainty and pressure on water availability in our region, causing great strain on our livestock and ability to care for our families, so the delivery of this water tank makes a big difference in supporting farming communities into the future," she says.
"On behalf of my farming community, I would like to thank Finish, Rural Aid and Coles for their support of this much needed initiative. I also encourage other rural Australians struggling through drought recovery to reach out to Rural Aid for support."
The #FinishWaterWaste initiative
#FinishWaterWaste is an initiative that came from the insight that by stopping the habit of pre-rinsing dishes before stacking them in the dishwasher, Australians could save up to 40lt of water per load and collectively save 20 billion litres of water in just one year.
Since the start of the #FinishWaterWaste initiative in 2019, Finish says it has donated more than 14 million litres of water to drought-affected Australians through its ongoing partnership with Rural Aid.
Now in 2021, it will encourage Aussies to prioritise water security to help safeguard our farmers against future drought.
Reckitt Hygiene Regional Director Oliver Tatlow says the Shepparton farming community has faced incredible strain in recent months, both from Victoria's water resources that continue to be under pressure and the impact the pandemic has had on livelihoods.
"So, we're incredibly pleased we can support our farmers in this region to capture precious rainfall today and into the future, giving them, their families and properties water security," he says.
"Thanks to our partners Rural Aid and Coles, we've been able to make this possible, and we look forward to continue delivering more critical water tanks to help ensure our Victorian farmers are provided with the resources needed to become drought resilient in the future."
Coles' support
Coles General Manager of Non-Food Jonathan Torr is pleased to support #FinishWaterWaste as it aligns with the retailer's sustainability strategy focus areas of Together to Zero and Better Together.
"We know that there are farmers in parts of Australia who remain affected by drought," he says.
"At Coles, we have an ambition to be Australia's most sustainable supermarket and this initiative encourages Australians to save water while at the same time supporting drought-affected communities.
"Together to Zero and Better Together highlights Coles' ambition to reduce its environmental impact while acknowledging that when we work together, we can make a real difference, especially to the communities in which we live and work."