The best of the best in FMCG marketing design was celebrated at last night's Shop! ANZ 2019 Marketing at Retail Awards.
Ferrero Australia and Kraft Heinz took home the night's biggest prizes.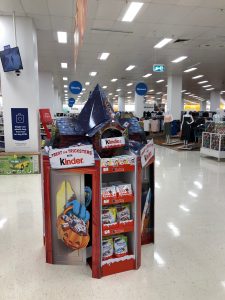 Ferrero Australia's Kinder Halloween POP display by Orora Specialty Packaging and The Mix Agency won several Awards throughout the night. These included Best in Show, Best Design & Innovation, Best Display and Gold in Large or Department Store Display. It is the first time in several years, says Shop!, that a POP display has been awarded the top prize – an indication of the success of the activation.
Kraft Heinz also won big. The company took home the Best Shopper Experience Award for XPO Brand's Heinz SnapChat Augmented Golden Egg Hunt. In addition, the campaign won Gold in Digital Instore, Mobile, Social & Online and Silver in both Occasion-based Shopper Campaign and Experiential.
XPO Brands was the most awarded entrant of the night, walking away with seven Indians and one Pinnacle Award. Other top performers were Orora Specialty Packaging, Cheil, GPS Group, Point Retail and iD8 Studios.
Grocery
The most contested category in 2019, says Shop!, was Grocery Store (Food), Temporary. This was won by GPS Group for Twinings with its Twinings Drink Outside the Box display. Silver was won by Presfast for Coca-Cola Make it Yours, while Bronze went to Konica Minolta Marketing Services (KMMS) with Store Display Global for Nestle's 2018 Halloween Confectionery Activation.
When it came to Grocery (Food) Permanent Display, Nestle Australia's 2019 Odyssey Activation by id8 Studio and KMMS took home Gold. This was followed by Energy for Now, Energy for Later by Red Bull & Mills Echo, and Premium Stores Water Gondola End by Coca-Cola Amatil for Romeos Retail Group.
Petrol and convenience
Petrol, Convenience & Route was won by the Kinder Natoons Newlink campaign by Think Display for Ferrero.
Silver went to Tic Tac Gum launch by Orora Specialty Packaging & The Mix Agency for Ferrero Australia.
Bronze was awarded to Lion Dairy Road Station Gondola End Destination by Poplever & SAPP Australia for Lion Dairy & Drinks.
Health and beauty
In the Health & Beauty categories, Gold was awarded to Point Retail for McPherson's Consumer Product's Manicare.
Glam and Lady Jane Chemist Warehouse Beauty Bays was given Gold for Permanent Displays, while for Temporary, Styleprint took home the top prize for its Mecca Summer Holidays campaign.
A new category
In 2019 Shop! ANZ introduced a brand-new category: the POP this POP that Retail Industrial Design Award, recognising the foundations and heartland of the Shop! retail marketing association – being physical design and features that improve functionality and aesthetics.
Scooping the inaugural Gold POP this POP that Retail Industrial Design Award was Point Retail for McPherson's Consumer Product's Manicare, Glam and Lady Jane Chemist Warehouse Beauty Bays.
Silver went to ID Pop for their Stuart Alexander Chupa Chups Totem Pole and Bronze to KMMS & iD8 Studios for the Milo Winter 2019 Mug.