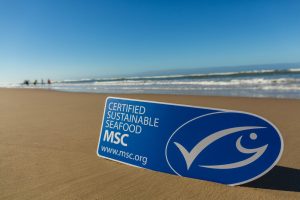 New research by the Marine Stewardship Council (MSC) suggests Australians' passion for seafood sustainability may not match their buying behaviour.
The MSC, which describes itself as "an international, science-based, non-profit organisation", found that three in four (74 per cent) Australian shoppers believe we should buy certified-sustainable seafood to safeguard our oceans.
Yet it also found that just one in five (21 per cent) notice eco-labelled products when shopping. Worse, only one in ten (nine per cent) currently buys eco-labelled fish and seafood products as often as they can.
The new research comes just as retail giant Woolworths is partnering with WWF-Australia to improve "sustainable sourcing" of seafood.
'Australia ranks in the bottom four'
GlobeScan carried out the research for the MSC for its 2018 Consumer Insights Report. Given that most households (73 per cent) serve seafood each month, and that half of seafood consumers (49 per cent) are willing to pay more for sustainably fished seafood, retailers should be driving eco-labelling visibility and the benefits of shopping sustainably. So says MSC Program Director Anne Gabriel.
"Unfortunately, Australia ranks in the bottom four when it comes to awareness of the MSC eco-label on seafood products," Ms Gabriel said. "Price perceptions of sustainably produced seafood remain a factor.
"Indeed, price was the fifth highest consideration for Aussies when buying seafood, pushing sustainability to seventh place. The research places Australia behind the likes of the UK, Germany and China, where sustainability is one of consumers' top priorities.
"This shows that we really need to recognise the importance of considered purchasing. Making the switch to eco-labelled seafood as part of your weekly shop plays a vital part in preserving our precious marine ecosystem.
"We're encouraging all Aussies to shop with confidence. Choosing the blue fish tick will help stop overfishing and support livelihoods and food security, so we can enjoy wild seafood for years to come. More than 400 seafood products in Australia carry the MSC eco-label. So there are lots of options for seafood lovers across the country!"
Coles on board
Coles Head of Responsible Sourcing and Quality James Whittaker says sustainable sourcing of seafood is of vital importance to Coles.
"We work with the MSC to give customers confidence to help make a better choice for our oceans," Mr Whittaker said. "Well-managed and responsible fishing is essential for the future sustainability of our marine ecosystems
"Independent certifications ensure the potential impact on marine health and the environment is carefully monitored. All Coles Own Brand seafood products have MSC or Aquaculture Stewardship Council (ASC) certification. Or they meet Coles Responsibly Sourced Seafood criteria."