Australia's free range chicken brand, Lilydale, today launched a national integrated marketing campaign alongside a new logo, packaging and products.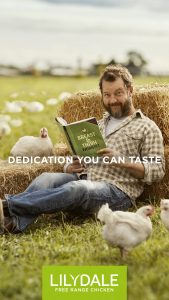 The campaign theme 'Dedication You Can Taste' is underpinned by the brand's 'Lilydale Promise', which the company says, "gives consumers confidence that all its free range chickens are raised with care on Lilydale farms by Lilydale farmers without antibiotics, no added hormones or growth promotants."
Head of Marketing Yash Gandhi said the new campaign and product redesign reinforces dedication to quality from its farms to the tables of Australia's discerning cooks.
"We're proud of our new brand platform and the new premium look of our packaging that reinforces Lilydale farmers' almost 20 years of dedication to perfecting free range practices based on one simple belief," Mr Gandhi said, "chicken that's raised better, tastes better."
Premium new product range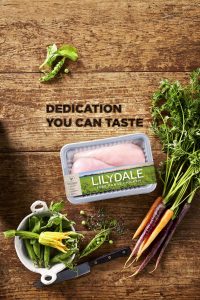 As part of the new brand campaign, Lilydale also featured new free range products, available at Coles.
The products include free range chicken Karaage Breast Bites, coated in a Japanese-style crunchy soy, ginger and garlic coating, containing no artificial colours or flavours, no added preservatives and a four Health Star Rating.
In addition, Lilydale also features a new Diced Breast Fillet; Sea Salt & Cracked Pepper Dippers; and Ciabatta and Herb Crumbed Bites, which can all be found in the freezer at Coles.
Product redesign for premium look and feel
LIlydale has redesigned the brand's look and feel through the launch of a new logo and premium packaging.
The designs are inspired by Lilydale's farms, featuring a new 'Y' in the Lilydale wordmark – a distinctive symbol that represents a blade of grass, complimented by the sweeping green landscape pictured on pack.
"It's a whole new look and feel that reinforces what we're known for – premium, free range freshness," Mr Gandhi said.
The new look and feel will also extend to a new landing page on lilydalefreerange.com.au.
National TV and integrated campaign
The launch of the new Lilydale brand platform, 'Dedication You Can Taste', will be communicated across various national reaching channels, including large out of home billboards, digital, PR, influencers and social media, as well as TV. It launches on Sunday and will run over the course of the year.
The film is playfully inspired by "the great lengths Lilydale farmers go to in order to raise their beloved chickens at an incredibly high standard," the company said.
Each short-form cutdown of the 45 second film features the original soundtrack "Thank You for Being a Friend" written by Andrew Gold.
"We are immensely proud to continue providing Australians with their favourite free range chicken in new and exciting ways. It's a testimony to the dedication of our farmers and the discerning tastes of our customers," Mr Gandhi said.