Arkadia Matcha Chai Tea will be available in all Coles supermarkets nationally from September 1.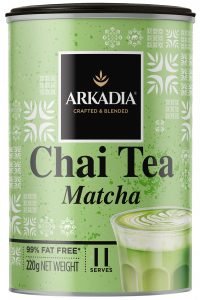 According to Arkadia Beverages, matcha green tea is made by grinding the entire tea leaf into powder, and provides a higher concentration of antioxidants and nutrients than regular green tea.
Arkadia says Matcha Chai Tea uses the finest grade of matcha green tea, combined with "subtle aromatic flavours".
The company recommends that, for a matcha chai tea, consumers simply add hot water.
For a "smooth, creamy" matcha latte, says the company, add hot milk.
For more information, call the Arkadia team on 03 9543 3113 or visit www.arkadiabeverages.com.au.