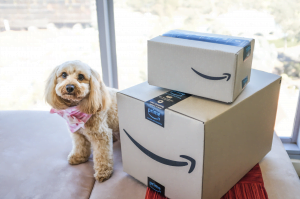 Earlier in the year, Amazon Australia launched the Pet Profiles competition in celebration of the Pet Profiles feature on Amazon.com.au.
After a furry and fluffy search, Amazon Australia and judge, Georgia Love have found a winner.
The pet and paw-rent duo that most look alike, are Cavoodle Rosie and her owner Courtney! The duo are taking home a $1000 Amazon gift card and have their very own photoshoot to update Rosie's Pet Profile.
Georgia Love touched on the judging experience, "I have had so much fun being a part of the search to find the face of Amazon Pet Profiles and helping pick the second cutest Aussie and paw-rent duo – after Pawdrey Hepburn and myself.
"It was so tough going through all the submissions, I had so many laughs and wish I could have picked them all but ultimately, I thought Rosie and her paw-rent Courtney looked incredibly cute in matching outfits!"
Paw-rent and owner Courtney says, "We always get told we look alike and I love matching my accessories with Rosie's, so it's cool that Amazon Australia is celebrating our special bond. It has been so exciting to be chosen as the winners and I can't wait to see Rosie's face on Amazon.com.au and I will be using the professional snaps to update her Pet Profile. Definitely a proud moment for this pet mum!"
To set up a Pet Profile, customers can visit Amazon.com.au/yourpets to select their pet type and answer some questions based on breed, age, gender, weight and preferences when it comes to food and flavours, and types of toys.