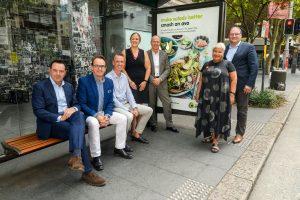 The Out of Home (OOH) industry has united through the Outdoor Media Association (OMA) to take an active role in limiting the public's exposure to discretionary food and drinks.
The industry is also donating up to $3 million each year to promote healthy diets and lifestyle choices on its signs.
OMA Health and Wellbeing Policy
The national policy restricts the advertising of discretionary food and drink products on Out of Home signs within a 150-metre sightline of a school.
Its aim is to meet community expectations and support government efforts to tackle overweight and obesity in Australia.
Other policy features include:
Full creative support from the OOH industry to create efficacious and meaningful campaigns that will reach the targeted audience.
Compliance monitoring of the national restrictions with annual reports provided to state and federal governments.
Annual meetings to be held with key industry stakeholders and health promotion experts to assess the implementation and efficacy of the restrictions and the educational programs.
"The Health and Wellbeing Policy reflects the fact that the Out of Home industry has listened to the community and government and pro-actively introduced a new voluntary self-regulating code to address what has become a critical issue in Australian society," says OMA CEO Charmaine Moldrich.
"We are currently placing a strong emphasis on education with $3 million of advertising available for health promotion campaigns every year."
The OMA National Health and Wellbeing Policy will come to effect on 1 July, 2020.
Visit healthyoutdoor.org for the relevant materials and processes.