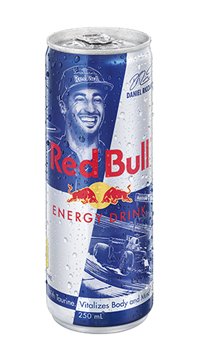 To show support for Australian Formula 1 driver Daniel Ricciardo, Red Bull has launched limited-edition packs that immortalise Daniel and his distinguished grin. The release coincides with the return of Aston Martin Red Bull Racing to the 2018 Formula 1 Rolex Australian Grand Prix, which is being held in Melbourne from March 22-24.
In partnership with social-media platform Snapchat, the limited-edition packs will also feature a code that unlocks the Daniel Ricciardo Snapchat lens. Fans that use the lens could win the chance to meet Daniel in person, and experience the 2018 Formula 1 Rolex Australian Grand Prix live in Melbourne.
According to Red Bull, energy drinks are highly impulsive – one in three shoppers don't plan on buying in advance, and one in two buy from a display when there is a promotion (Shopper Tracker Convenience 2017). This activation creates a platform to add value to the consumer by offering an exclusive experience.
Red Bull says the campaign is focused on Daniel Ricciardo's "infectious personality and smile" through social media, in-store activation, experiential and event marketing, partnership executions and influencer engagement.
The limited-edition Dan cans are available in individual energy-drink and sugar-free 250mL cans (RRP $2.85) and in a take-home 250mL x 4 multipack (RRP $10.19).