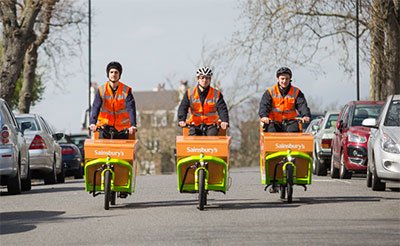 UK retailer Sainsbury's has launched a trial of the country's first grocery-delivery service involving electric cargo bikes.
A fleet of five bikes began delivering up to 100 orders a day across south London from Sainsbury's Streatham Common store to customers who have shopped on the retailer's website
Sainsbury's has launched the trial with e-cargobikes.com to test whether delivering groceries by electric cargo bike could be a more efficient way of getting groceries to customers in busy cities.
The service will make the most of cycle lanes to avoid traffic, especially during peak delivery hours such as midweek mornings, with the bikes parking closer to customers' homes than is often possible for traditional delivery vans.
Sainsbury's says it aims not only to reduce delivery times through its bike fleet, but also minimise environmental impact as the bikes produce zero emissions and no noise pollution.
"We're always looking for new ways to make sure we can best serve our customers and this trial will help us explore whether there might be a more flexible way to deliver Sainsbury's groceries to those who live in busy cities," Sainsbury's Director of Online Clodagh Moriarty said.
If successful, the trial could be rolled out to further areas across the UK.