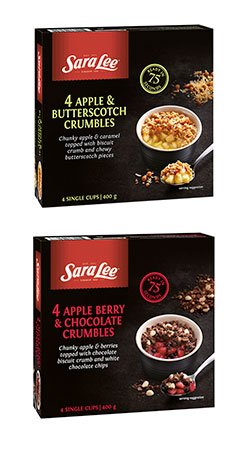 Sara Lee says it is heeding consumer demand for flexible portions and convenience by bringing its Crumbles range to freezer aisles nationally.
The new range of fruity Crumbles is marketed as encouraging consumer "portionable indulgence" – reminding shoppers that they don't need an excuse to enjoy "dessert for one".
Promoted as being ready after 75 seconds in the microwave, the new Crumbles range "adds a delicious and convenient twist to traditional dessert favourites".
McCain Foods Senior Brand Manager Laura Gomez-Garcia says Sara Lee's latest product release recognises the need to offer single-serve desserts with the added benefit of microwave convenience.
"We know that consumers are looking for dessert options that are convenient and flexible, but that also deliver an intricate depth of flavour, textures and indulgent satisfaction," she said. "Our new Crumbles range will delight you whether you're having a family dinner, or on your own with a movie."
Apple Berry and Chocolate Crumble features apple and berries topped with chocolate biscuit crumb and white chocolate chips, while Apple and Butterscotch Crumble features apple and caramel topped with biscuit crumb and butterscotch pieces.
Sara Lee's new Crumbles are available in the freezer aisle of Coles (Apple Berry and Chocolate flavour only), Woolworths (Apple and Butterscotch only) and Metcash stores nationally. RRP: $7.49 for a 4x100g pack.