On July 17, Coles launched its latest supermarket in Ormeau Village, north of the Gold Coast. While the brand-new supermarket and surrounding stores are still sparkling and shiny there is more than meets the eye when it comes to the newest addition to the supermarket giant's family.
In addition to the new store creating 44 jobs, (with more than 20 of the team members beginning their first ever job) it has begun to give back to the local community.
Supporting the community
"[We are] engaged with the community, [and have] already touched based with three of the schools … We had them here for the launch," said store manager, Andrew Holmes.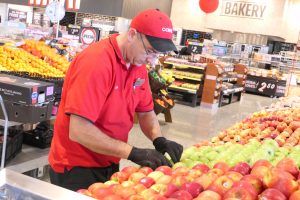 Mr Holmes also said that Coles Ormeau has donated money to the schools and is supporting school breakfast clubs.
"[We're] providing the spreads and breads so they can feed the kids that don't have breakfast when they come to school."
In three weeks SecondBite will be launching and Coles Ormeau will be donating the produce that they are unable to put on shelves. Additionally, Mr Holmes plans to give a helping hand to local farmers, "We've touched base with a few [local] farmers, [to] collect, what we call, our waste products."
"I find Ormeau quite a well-established community," added Mr Holmes. "We also sponsor the Christmas Carols, we did last year, and we've [been] asked to do that again this year."
Paving a new future
The new store is set to impress shoppers as it not only has an in-store bakery with the full range of Laurent artisan-style bread but an open-style butcher offering a personalised, slice-on-request service.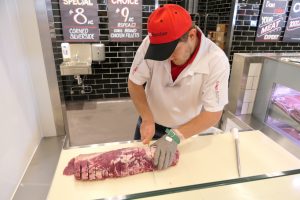 According to Mr Holmes it's the quality and freshness that is most important to customers. "It's really important to people these days, people are quite creative in their recipes and cooking," he said.
The supermarket also launched Click & Collect on July 22, specifically as a concierge service whereby customers park their cars in allocated parking bays and have their groceries taken out to them by Coles staff.
"More than all, it's providing good service, quality and availability. They're the key areas, the three pillars that we run by," said Mr Holmes.
The launch
The store opened with a soft launch on Wednesday July 17.
This was followed by a full launch on the following weekend which was open to the public and included MKR contestants Alex and Emily, professional racing driver Jamie Whincup and DJ Cutloose.
The launch day proved to be a big success for the fresh new supermarket and is expected to continue its success amongst the local community.