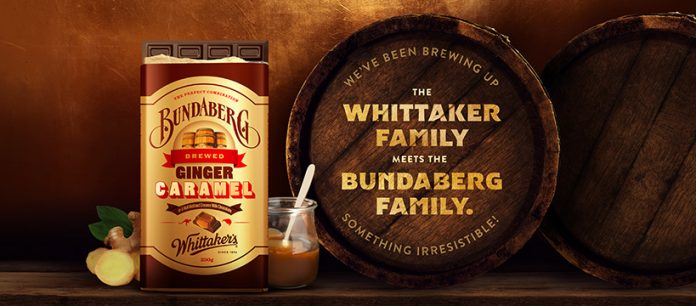 There's a new chocolate on the block, with thanks to two local (one practically local) brands.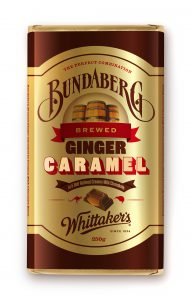 The family businesses have come together to create the new Whittaker's Brewed Ginger Caramel 250g Block.
The new block combines velvety ginger caramel, encased in Whittaker's super smooth, 5 Roll Refined Creamy Milk chocolate. The caramel filling is made from Bundaberg's ginger brew that is used to make their Ginger Beer.
The amount of Bundaberg ginger brew provided to Whittaker's for the chocolate is enough to make 335,600 bottles of Ginger Beer.
"Bundaberg Brewed Drinks' similar approach in using locally grown ginger and even growing and harvesting some of its own ginger, sourcing only the best ingredients and making its products locally fits perfectly with our ethos," explains Whittaker's Co-Chief Operating Officer, Holly Whittaker.
Bundaberg's CEO, John McLean says that its their first collaboration with another brand on a product to be widely distributed in supermarkets across Australia and New Zealand.
"Both family businesses have a long-standing commitment to excellence and are entrenched in the trans-Tasman way of life.
"We hope this will encourage Aussies and Kiwis to get together with loved ones to share some special moments, great food and delicious brews – while socially distancing, of course," says Mr McLean.
Together, the companies are creating opportunities as part of the campaign to support Whittaker's Brewed Ginger Caramel launch to encourage friends and family on both sides of the Tasman to get together virtually and treat themselves, with this unique new flavour that is available nationwide in both countries.
Whittaker's Brewed Ginger Caramel 250g Blocks will be available exclusively in Coles, in all of their stores across Australia, from 31 August.