Coca-Cola Australia has launched a campaign this week to commemorate its 80 years Down Under.
It will lead consumers with a new locally produced TVC, supported in PR, social media and out of home.
The tagline in the end frame of the TVC is "Coca-Cola Australia: Made and shared Down Under for 80 years".
Coca-Cola South Pacific Marketing Director Lucie Austin said, "Eighty years is a significant milestone and a timely occasion to celebrate Coca-Cola's lasting and strong connection to Australian culture and people.
"Many Australians assume that Coca-Cola drinks are shipped all the way from the US to our shores.
"We want to break this myth by sharing the stories of everyday Australians connected through Coca-Cola. They have made, bottled and enjoyed the world's greatest drink right in their backyard for 80 years."
"Quintessentially" Australian
Creative agency McCann engaged Brilliant Films and director Steve Back to produce the TVC. They shot it on the NSW Far North Coast in locations including Casino, Lismore and the hinterland surrounding Byron Bay. The TVC makers chose these places for their "quintessentially" Australian feel, wide streets, stunning natural light and well-preserved heritage buildings. The creative takes a nostalgic look at Coca-Cola in Australia throughout the decades.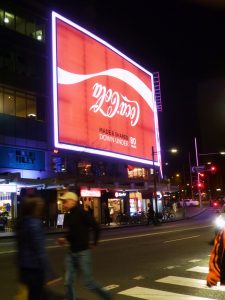 Out of home, the famous 'Coke sign' in Sydney's Kings Cross is the site for a brand first. The famous red-and-white logo is appearing upside down (right) in a nod to the company's local heritage Down Under.
According to Coca-Cola, the campaign delivers the Australian-made message. It will also aim to integrate the brand into the heart of Australian programming throughout October. For example, it will launch during the AFL Grand Final and continue with spots in the NRL Grand Final.
Social and PR will focus on delivering real Coca-Cola stories from some of the people who have been part of Coke's 80-year Aussie odyssey.
The campaign will also build awareness of the range of beverages Coca-Cola produces Down Under. Finally, it aims to give audiences an insight into the next 80 years for the brand in Australia.