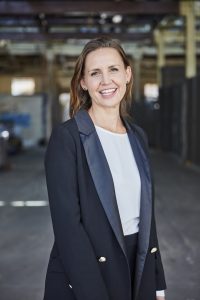 Superior Sales Consulting's Disruption Podcast series shares the stories behind some of the biggest disruptors in FMCG. Retail World has compiled highlights from Episode 6, 'Discovery Driven', which interviews Frucor Suntory Sales Director Caroline Waite (right).
Could you give a quick snapshot of where you grew up, live now and how you started in the industry?
I grew up on the northern beaches of Sydney and I still live there now with my husband and our two-and-a-half year old.
I started my career as a graduate at Bayer Healthcare. They transitioned quite quickly after I joined, to merge with Roche, so that moved me off the graduate program and within a couple of months into a permanent position.
You started in marketing before stepping into sales. How did that transition take place?
I moved from marketing to sales as my favourite bit of marketing was the final concept test: when you got it in the hands of a customer and they told you whether they loved it or not, whether they were going to take it, and it felt like the real reality check. My passion and energy for that side of the sale eventually led to career development chats, it being very much prompted that I was on the wrong side of the fence and I should go to sales. Now that I'm here, I feel like it's home. I love it. It's my favourite side of the coin, although I still do have a soft spot for marketing.
Those who are disruptors often take that step back so they can grow faster forward. Was that one of the considerations you had at that time?
A hundred per cent. It was one of the reasons that I didn't move a few years before, as I was so worried about the ladder in a career path. Also, if I spent time in sales, that would be time I was missing, and I'd be out of the race sort of thing. I think breadth became something I wanted more than pace.
After being exposed to some inspirational people, I noticed that the people I was inspired by were the ones who had great stories and could tell diverse experiences from diverse companies or diverse functions. That quickly became more of a desire to me than rising to the top.
What are some of the things that really underpin your thoughts and your mantra as Sales Director here at Frucor Suntory?
I believe we're here to make a difference and not to save the world, but to make something different tomorrow than it was before. For me, my purpose is about changing, having an influence, creating some course of change because of your actions or your perspective. That's why I do what I do, and it helps me to really define what roles I'm in and what experiences I have. So making an impact is a really big part of my 'why'.
I also get energy off people and I hope I give energy to other people. What I really loved about my last few roles is that real leadership where you get an opportunity to have a job that's just about people and getting great people motivated about doing great things. I get paid to do what I love. It's a dream.
Can you take us a little bit further into ways that come to life for you in a day-to-day sense, ie, managing your sales team?
Fundamentally, the way I lead my team is, firstly, selecting great people that care about making a difference. I think people that want to go the extra mile always deliver a better result than the smartest person in the room or the person with the best skill set. It's that commitment and the passion and the hustle. I often refer to it, you know, as hustle is everything. So picking, building a team of people who are really motivated by the same thing, is important at the start.
Then it's making sure that everything you do in your way of being is about the people on the other side, the customer. So my leadership style is about trying to bring the customer as much into the business as possible, trying to motivate my team and also give them the liberty to service the customer.
Tell us a about parts of brand disruption that you've been in at Frucor Suntory?
We took the V brand and moved into the iced coffee segment to really try and stretch how people facilitated that name for energy. Super exciting project, very risky. I think a lot of people internally thought it just couldn't be done. But it became exciting once we started engaging a couple of customers, and we actually identified a partnership with 7-Eleven at the time to be our launch partner for that.
Pretty much everyone who came into 7-Eleven for the first month had an opportunity to purchase the product, and that really kind of shook up what execution looked like as well. It was an incredible success.
If you look back at your younger self who ventured from marketing to sales, what advice would you give that person now?
No shoulder pads! No, I think probably jump. There were some decisions I didn't make because I was nervous that I wasn't ready, or that I didn't have all the skills that it would take to give it a shot. I think I've missed out on those experiences because I think you learn the most when you step outside of your comfort zone. It's a bit of a cliché but it's so true. Stepping into the biggest challenges I've had – coming from marketing to sales, or going overseas and not knowing anyone: that's when you really learn and you really have the best, positive experiences on the other side, because they were harder. When you have to work harder for them, they feel better.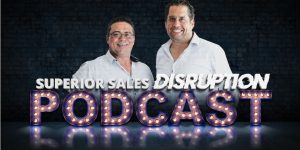 The above is an edited version of an interview conducted by Jamie Lobina and Mark Truelson for Superior Sales Disruption. To listen to the full interview, download the podcast from iTunes or from www.superiorsales.com.au/podcast. New episodes are released weekly on Wednesday mornings.