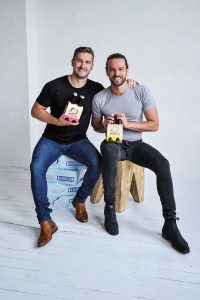 Superior Sales Consulting's Disruption Podcast series shares the stories behind some of the biggest disruptors in FMCG. Retail World has compiled highlights from Episode 8, 'Taking the Right Risks', which interviews Nexba co-founder and CEO, Drew Bilbe.
To start, can you talk us through your and co-founder Troy Douglas' backstory?
We have a unique story. We grew up in the hills district of Sydney – me at number 49 and Troy at number 149 on the same road. So, we had a close relationship from the start. We met when I was dating Jess, Troy's sister, who I eventually married. Growing up together allowed us to understand each other well, and we have a great working relationship – part of the reason why Nexba is working out so well.
Look to support local manufacturers who have the innovation and design capability to accelerate your production rather than paying inflated international prices for your machinery.
Read More
How did you get started in FMCG and how did Nexba come about?
Before Nexba, I did an exchange at Mexico University, studying civil engineering. While there, I noticed that the food beverage space was a lot more developed there, than it was in Australia. Iced tea made up 12-14 per cent of the beverage category, while in Australia, with Lipton Iced Tea and Nestle, the category represented only about one to two per cent of the beverage market.
I continued working as a Civil Engineer for Boral, while Troy was studying law and communications at the University of Technology Sydney. I was 23 and Troy might have been 21, we came together and decided that we believed the beverage industry in Australia is an industry that wasn't happening, with no real reduced or no sugar drinks on offer – something we thought was going to resonate well with Australian consumers.
We managed to get enough money to get on Alibaba and we then bought a complete canning line, sight unseen, which was delivered to a Hornsby [NSW] warehouse in a 40-foot container with Cantonese writing on it – no English. We spent the next six months putting it together, and by the end, we produced 100 pallets of canned, naturally sugar-free, iced tea. From there, we got into a little combi van and began knocking on doors, trying to understand what the opportunity was like and if it was as big as what we believed.
What was the outcome of that?
We realised then that we needed someone like 7-Eleven, Caltex or Coles Express – a P&C player – to launch on a national scale; to get the sort of household awareness. In 2012, we were fortunate enough to get that – that is when we launched our first iced tea nationally. It was a breakthrough for us.
In terms of risk, you've gone from being in construction to FMCG. What convinced you to take that risk?
I've asked myself that question a few times. I always wanted to start my own business, from a young age. In my family, there are lots of business owners, so it didn't feel like it was a giant step for me to take – a more logical step. I think Troy had a similar mentality.
Buying a container on Alibaba, without a background in FMCG, is disruption at its best. How have you embraced the fact that you started with nothing, took the leap of faith and took on some of the giant corporations while taking on the constraints that have been put in your way?
Both Troy and I are passionate about being brand-challengers – innovating and coming up with things that haven't been done before. As an opportunity, we didn't know if it was possible, but if it was, we were going to find a way to do it. That's the differing mentality that business owners have, as opposed to people who aren't willing to take risks or who don't want to find a better way. You've got to have a passion for innovating and challenging the status quo.
What about the financials? Old school thinking has been 'if you're going to launch a new product, you'd better have $10 million to launch it'. Have you guys had to battle cash or had investment at your disposal?
There's no doubt that you have to make every dollar work a lot harder than what you would if it were a multinational or you don't have millions of dollars at your disposal for above-line budgets – you have to be sure that you're getting a return on investment.
How do you approach failure, and what are some of the lessons you can take away from it?
You must embrace it and learn from it because the alternative is that you don't, and you let it consume you – that's not a positive experience. So, if you can, try things and, fail fast; or run with it, if it's working. That's crucial. Also, knowing the sweet spot is important. If it's not working, move on.
There's nothing worse than continuing to beat a dead horse. You've got to understand if you've launched something that's a success, you've got to go all in. If you've launched something that isn't a success, you've got to fail fast, and learn from it.
What advice would you give to an up and comer?
There's never a perfect time to launch a business; you need to be sure that you've found a niche, which you can capitalise on. Then you must take that first step because you're never going to have the perfect business plan or you're never going to be well funded when you start out. And yes, you'll have hurdles to overcome, but if you never take the first step, you're never going to see any of that in the first place.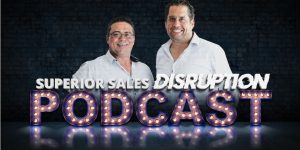 The above is an edited version of an interview conducted by Jamie Lobina and Mark Truelson from Superior Sales Disruption. To listen to the full interview, download the podcast from iTunes or www.superiorsales.com.au/podcast. New episodes are released weekly on Wednesday mornings.