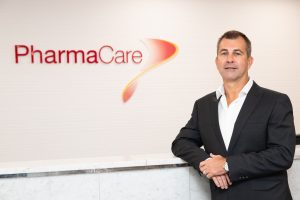 Superior Sales Consulting's Disruption Podcast series shares the stories behind some of the biggest disruptors in FMCG. Retail World has compiled highlights from Episode 4, 'Building an A-Team', which interviews Pharmacare CEO John Donlan (right).
Could you give a quick snapshot of where you grew up, went to school and how you started in the industry?
I grew up in Pymble on the North Shore of Sydney and went to High School at St Leo's Catholic College at Wahroonga. I got into my working life when I joined a bank and worked there for a little while. From there I jumped into the building industry, but I wasn't very good at that.
Through my sporting contacts in rugby, I picked up a job with Speedo, as it was back then. It was good starting to get an understanding of retail and how that worked.
You said you played a lot of sport growing up. Has that been something that's guided you of late?
I think it's the winning attitude that goes with sport. I loved playing in teams and it being about the team result and how that came together and what structures and strategies were put in place to get a result. I think I've been fortunate to be able to bring that through into business and I don't think there's a lot of difference between the business world and the sporting world as far as teams go and what it takes to get strong performance.
It is an important alignment. Sport really, fundamentally gives you teamwork, it gives you discipline, it gives you a winning attitude, it also teaches you how to lose. These are important fundamentals.
From Speedo, where was your next port of call?
From Speedo I went to a small company called Danish Farms. They had just started, and I went on the road with them, helping to set up a brand-new territory, scoping all that out and selling into to cafes and convenience stores.
From there after a bit of travelling I had a role with Arnotts Snacks. Being in the snack market was the first time that I was really involved in FMCG, particularly in the grocery market. It was probably the time in my career when I jumped around several things that I started to feel comfortable.
I enjoy structure and the grocery industry, the process back when I started and still today of how you deal with the retailers. That started to gel for me and where I felt that my skills were strongest, it all started to crystallise.
I then had 10 years with Sunbeam and that was a great small business and probably where I found my feet. I've found that working with a smaller business you got to be hands on with all areas of the business and what suits me doesn't suit everybody. It's something I always talk to people about when they're looking to come into Pharmacare. We've grown a lot in the last 20 years, and everybody gets in and gets involved in different areas of the business.
So, your career is very distinguished on paper. What are some of your career highlights and challenges?
The highlights have obviously been Pharmacare. I've been here 18 years and it's been an incredible journey. When I came here, it was a $30 million business predominantly in the pharmacy market had been operating for about 15 years at that stage.
Over the past 18 years, we've grown that business from a $30 million business to what will be close to be a $500 million business at the end of this current financial year. We operate and have offices all around the world. We've bought many brands, we've launched many brands, and we've achieved an enormous amount over that time. It's just amazing.
There's been plenty of challenges. We went through the pan pharmaceutical crisis some 15-16 years ago that nearly wiped the business out in a day. That was a real challenge for us, and the industry took a long time to get over that. But we pushed through that and again, we've had a really good management team in place for a long time in this business and we sort of pulled together as a group.
From a Pharmacare point of view, has there been any innovation and new product development in particular that you've seen that have really disrupted the market?
NPDs and innovation are what we're all about. If you talk to any of the retailers that we deal with, that's what we're known for, we're very quick to market. I've just come back from a trip over to the US, where we had about 15 or 20 of our marketers to look at stores and attend a big expo that occurs over there from a natural health perspective.
From kids' gummies that we brought to market probably 15 years ago now, across the board, we were the first to come into grocery with bulk packs of vitamins about 18 years ago. We've also brought to the market natural cough and cold products, and products in the beauty area now with collagen. We're very quick to look at ideas and to look at NPD and those sorts of disruptions.
What do you think of the younger people coming into the FMCG industry today?
I think you certainly learn from everybody and those young people that are coming through from 18 up to 25 you learn a lot from them. I find them incredibly talented. I think if you listen and you give them the time, there's a lot you can do. You can watch and you can learn from them. I mean, our industry has changed so much, you know, from a marketing perspective, particularly of how messages about products get to consumers.
But you need to know from those younger people how they manage their lives, how they get information, how they get content. It's so different today. With the advance of online and social media, to young people that's all they've known. There's a lot to learn a lot to learn from them.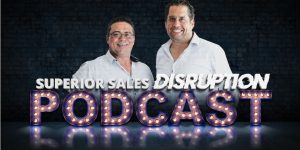 The above is an edited version of an interview conducted by Jamie Lobina and Mark Truelson for Superior Sales Disruption. To listen to the full interview, download the podcast from iTunes or from www.superiorsales.com.au/podcast. New episodes are released weekly on Wednesday mornings.