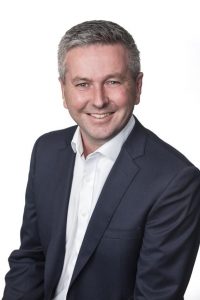 Bernie Hughes (right) will replace Justin Sargent as Pacific Managing Director at Nielsen, the company has announced.
Mr Hughes will lead Nielsen's Connect business, while Justin Sargent will head up its China Zone as President.
About Bernie Hughes
Mr Hughes has held several leadership positions in retail and media measurement in various markets during his 27 years at Nielsen. In his new role, he'll manage the Nielsen Connect teams in Australia and New Zealand. According to Nielsen, the teams support retailers, grocery manufacturers and other specialist industry fields, such as automotive, books and government.
Outgoing Pacific Managing Director Justin Sargent says Mr Hughes has all the right attributes and experience for his new role.
"Bernie's understanding of the Nielsen business, based on his long-standing career across multiple divisions and countries, coupled with his leadership skills, are a perfect formula to continue to lead the Pacific business and deliver on our strategic plan," Mr Sargent said.
Two avenues for grocery growth
Mr Hughes has already identified "two distinct avenues" that he believes grocery retailers can tap into to capture new growth.
The first is the industry's presence in e-commerce. The second is a renewed focus on the needs and wants of multicultural consumers.
Of e-commerce, Mr Hughes said: "We predict online grocery sales will contribute $2 billion worth of growth to the Australian market within five years.
"In the first quarter of 2019, online grocery sales increased by 22.2 per cent versus the previous year. This is ten times faster than the total grocery sector growth of 2.2 per cent in the same period.
"Online is destined to be a key source of growth for the grocery channel. Retailers and suppliers who are able to get ahead of the curve and understand that an 'online grocery shelf' is very different from a 'bricks-and-mortar' one will reap the rewards."
Courting Asian-born consumers
Mr Hughes also cites Nielsen research showing that Asian-born consumers' grocery spend is growing 2.8 times faster than all other ethnicities – combined.
"Our biggest grocery suppliers still under-index when it comes to how much Asian-born consumers are spending on their brands," he said.
"We're committed to helping our clients realise the opportunity our ethnically diverse nation has to offer by expanding our Homescan consumer panel to provide a representative view of multicultural Australia."